NO ADDED SUGAR, LACTOSE-FREE, GLUTEN-FREE… BUT WITH A LOT OF TASTE
Everyone (or almost everyone) likes to eat ice cream. Do we have to deal with processed foods? Do we have to fall into the network of industrial or artisan sugary foods? Before you answer, try to make this delicious 100% natural and vegan chocolate and avocado ice cream.
Today Fittest Freakest introduces the FIT FOOD PROJECT in a crusade against the food industry to show that you can eat tastily and healthily! With the help of Nutrimeals' chefs and nutritionists, every 1st of the month a new recipe will be published which will redesign our favorite "cheat meals" in an appetizing, healthy, natural and FIT version. 

And in this heat… what better to start with than ice cream? Don't miss the full recipe, it's much easier than doing muscle-ups!
Vegan avocado ice cream recipe by Nutrimeals
Vegan, gluten free, nut free, Paleo, lactose free and suitable for diabetics.

· Preparation time: 5 mins.

· Freezing time: 8 hours.

· Servings: 4 servings. 

Ingredients:

· 3 large bananas 

· 2 large avocados without skin or seeds 

· 1 tablespoon lemon juice

· 90 ml coconut milk

· 40 g pure cocoa powder 

· 3 g stevia leaves 

Preparation:
Put all the ingredients into a food processor.
Process until you get a smooth and creamy mixture.
Place the mixture in an ice cream maker or freeze it in a freezer container by covering it with a lid or plastic wrap.
Leave the mixture in the freezer for approximately 8 hours. And, if you can, take it out every 2 hours to beat it and make the final result creamier. 
You have to take it out 30 minutes before consuming! 
Nutritional information by Nutrimeals (100 g)

• Calories: 137 kcal

• Carbohydrates: 14 g

• Fiber: 4,2 g

• Proteins: 2,2 g

• Fat: 7,9 g

• Sodium: 2,42 mg

• Magnesium: 46,23 mg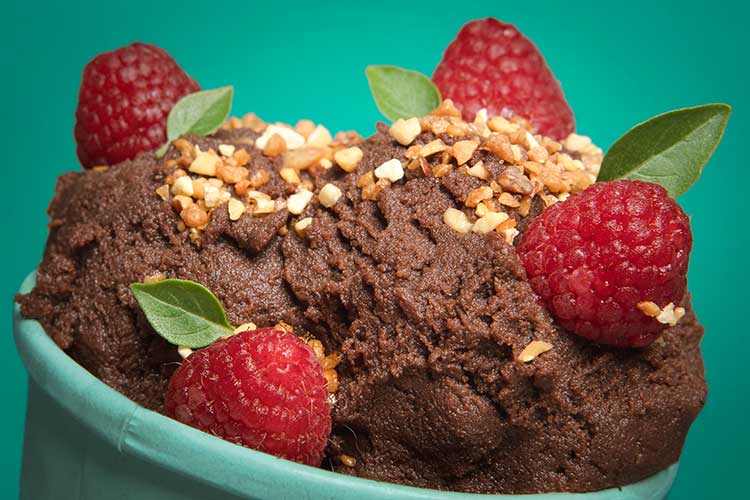 NUTRI-TIP: DO YOU WANT IT EVEN MORE NUTRITIOUS?

AAdd chopped nuts or cocoa nibs for a crispy and healthy touch.

TASTY-TIP: DO YOU WANT IT EVEN TASTIER?

Change the stevia to 125 g of coconut sugar.
Photos by Lagunaguiance.
Food styling by Nutrimieals.