LESS CARBOHYDRATES, MORE PROTEIN
The pizza that goes with the Sunday movie on the sofa is a pleasure that even the biggest fitness freak should be able to enjoy without wanting to starve themselves the next day to compensate. Is there a low-regret pizza? Yes, and not only that, it is also high in protein.
Fittest Freakest launches the second FIT FOOD PROJECT to save the fall Sunday pizzas that are coming withNutrimeals chefs and nutritionists with a very healthy version of this famous "cheat meal".

We present the homemade pizza with chicken dough. A low carbohydrate version, since it eliminates flour from the dough and replaces it with chicken, so it is a gluten-free and high-protein pizza perfect for athletes. No pizza, no gain. 
Low-carb chicken dough pizza recipe by Nutrimeals
Low-carb, gluten-free, keto.

· Preparation time: 10 min.

· Cooking time: 40 min.

· Portions: 4 portions

Ingredients:

· 300 g chicken breast

· 1 egg or, if you are looking to reduce fat, 2 egg whites

· Dough condiments: smoked paprika,

· Low fat cheese

· Cherry tomatoes

· Basil

· Optional toppings: mushrooms and red onion.

Preparation:

Dough:
· Cut the chicken breast into small cubes.

· Put the chicken cubes next to the egg and the seasonings for the dough in the food processor.

· Whizz it all to form a paste.

· Cover the dough with plastic film and knead it with a rolling pin until you get the pizza shape you want. Remove the film.

· Preheat the oven to 180º and cook the pizza for 30-40 minutes.

· Remove the pizza from the oven.

Toppings:

· Cut the cherry tomatoes in halves or quarters and crush them with a mortar next to the basil. Spread the sauce over the cooked pizza dough.

· Add cheese, mushrooms and red onion.

· Bake it again until the cheese melts completely and remove it from the oven. 

Nutritional Information by Nutrimeals (100 g)

• Kcal: 147 kcal

• Carbohydrates: 1,7 g

• Fiber: 0,4 g

• Proteins: 18,4 g

• Fats: 7,3 g

• Sodium: 170,5 mg

• Magnesium: 17,2 mg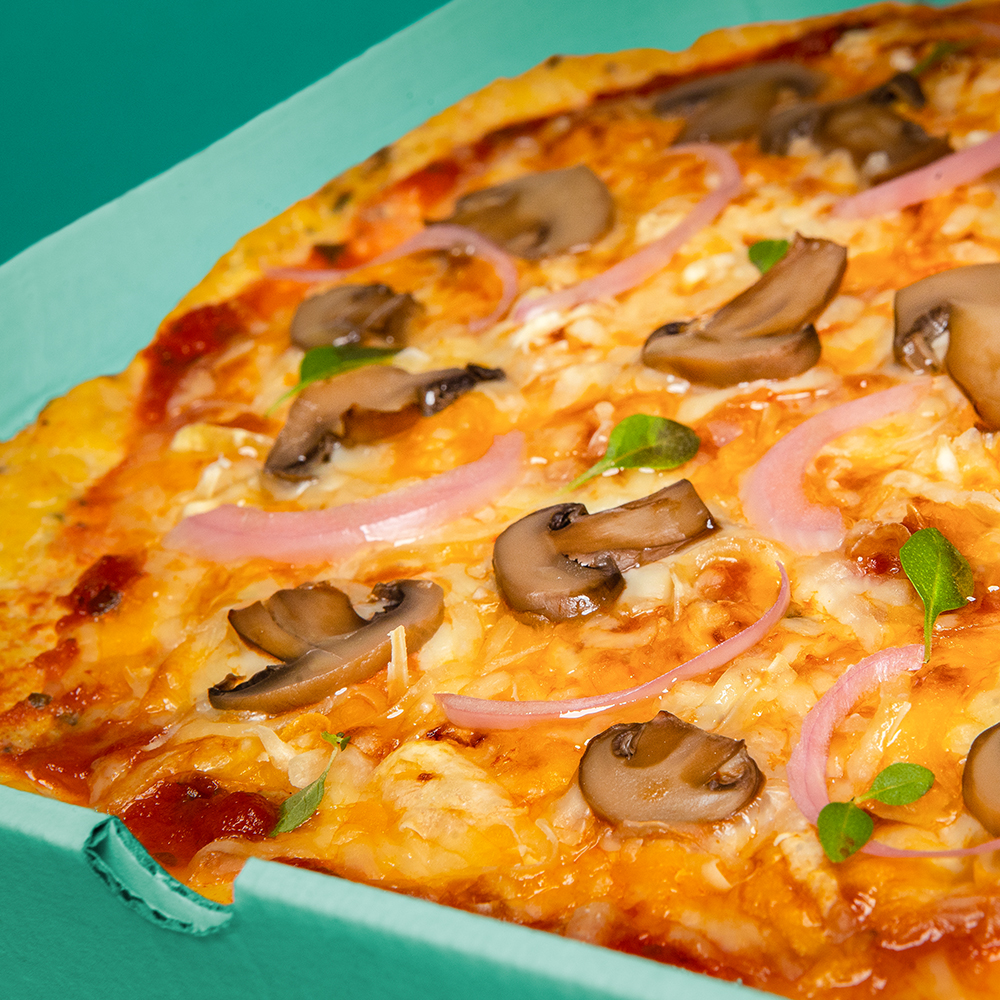 NUTRI-TIP: DO YOU WANT IT WITH EVEN LIGHTER?

Replace the cheese with nutritional yeast.

TASTY-TIP: DO YOU WANT IT EVEN TASTIER?

Add a dash of truffle oil and fresh basil leaves.
Photos by Lagunaguiance.
Food styling by Nutrimieals.